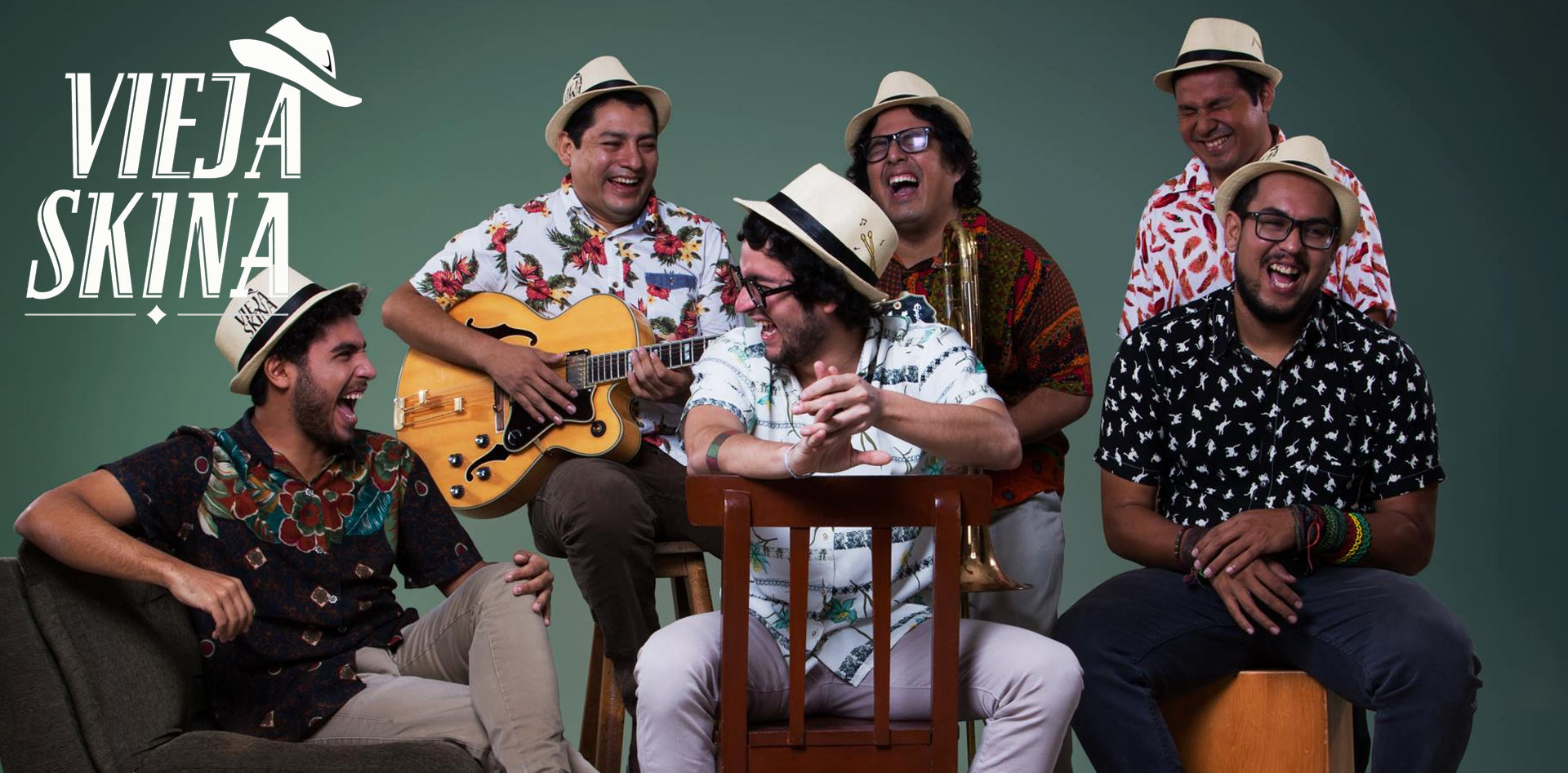 Vieja Skina
Lima - Perú
The Peruvian band of Ska Jazz Traditional, Vieja Skina, (World Music) that rescues the vast Peruvian musical wealth, fusing it with tropical Caribbean sounds (contributing to the fusion of Afro-descendant rhythms developed in different parts of Central America and the American continent) .

Created in 2007, their first album entitled "Ayahuaska" was released worldwide in 2011, produced by Mario Siperman (keyboardist for Los Fabulosos Cadillacs), Victor Rice (producer of the emblematic Moon Ska label), Manfred Schulz (German producer of artists like Mr. T-Bone, Moon Invaders, etc.) and Mad Professor (renowned dub producer). The album was very well received by the public and the music industry in general. This success allowed the band to have access to national and international stages and tour Colombia, Brazil, Mexico and Ecuador participating in renowned festivals in these countries.

Vieja Skina has shared the stage with great stars of international music. The legendary The Skatalites, Doreen Shaffer, Groundation, Pato Banton, Michael Rose (ex Black Uhuru), SteelPulse, La Maldita Vecindad, Desorden Público, Hugo Lobo, Onda Vaga, among others, stand out on this list. At the end of 2017, the band released the Album "El Regreso de la Luna Verde", a production that has the participation of several renowned SKA musicians, around the globe (Hungary, Italy, Brazil, Argentina, USA), in addition to having It was mixed by Sergio Soffiatti (producer and musician of Orquestra Brasileira de Música Jamaicana) from Brazil and mastered by Mario Siperman.

This year Vieja Skina in colaboration with ALVANI Tunes released the new album "Matices", that definitely is the album that marks a very important milestone throughout Vieja Skina's career as a band.

Vieja Skina as a musicians and music lovers, always found themelves in the experimentation and exploration of new rhythms and textures that go beyond ska as the main axis.

In this album, they are taking elements as the main base (Jamaican music), incorporating inks from other genres such as jazz, Latin music and world music. That is why the final result of "Matices" generates a new, clear and different breath. That refreshing "nuance" that they were looking for so much and they achieved it.
Vieja Skina
Featured | Songs
Vieja Skina
Videos
ALVANI Tunes
Vieja SKina | Albums
Vieja Skina Tour Mexico 2023